Types of Eyewear
CPS Optical providers are able to offer eligible participants an exam with a pair of eyeglasses/contacts.
There are 4 basic types of lenses:
Single vision- Lenses that correct one vision problem.
Bifocal- A lens that is split into two: the top half is used for distance and the bottom half for near vision.
Trifocal- A bifocal lens that contains a third section for seeing objects that are within an arm's reach.
Progressive- Often referred to as "no-line bifocals", are a revolutionary type of lens that offer a seamless progression for near and far vision when compared to the traditional multifocal lenses (bifocal & trifocal).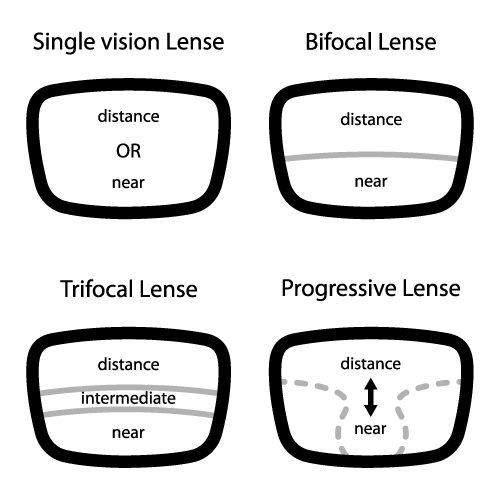 For patients that have a very strong prescription, hi-index lenses offer a thin and cosmetically appealing lens. Also referred to as "thin lenses", they are specifically made to be thinner at the edges and lighter in weight.

Some other types of eyeglass lenses include:

Polycarbonate Lenses: The most durable lens material on the market. Polycarbonate lenses offer wearers a safe and lightweight pair of glasses that is very impact resistant.

UV Protection Lenses: When choosing sunglasses, it is best to look for a quality pair that blocks 100% of UV rays.

Polarized Sun Lenses: Polarized sunglasses have become extremely popular over the years and for good reason! These sunglasses reduce glare and are great for outdoor activities and driving.